Cheers for a Cure
Proceeds benefit the Muscular Dystrophy Association annual summer program.
Northwoods Brew Pub is excited to partner with the Muscular Dystrophy Association and host the 1st Annual Cheers for a Cure! Cheers for a Cure is a fundraising event where the community will join together to put their muscles behind sending kids with muscle disease to a barrier free week at MDA Summer Camp. MDA is leading the fight to free individuals- and the families who love them- from the harm of muscular dystrophy, ALS and related muscle debilitating diseases that take away physical strength, independence and life.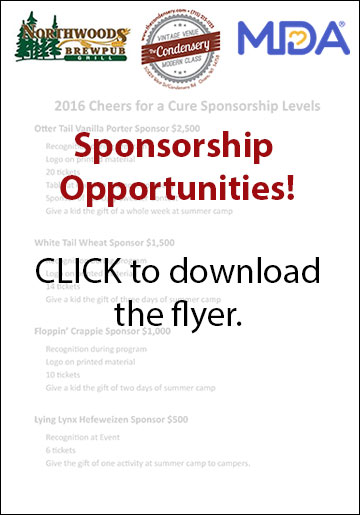 The 1st Annual Cheers for a Cure is scheduled to take place on Friday December 2nd at Northwoods Pub in Osseo, WI. The event will feature a beer release party, plenty of food and drinks, live music, an ugly sweater contest, and some great raffle prizes! Come have a great time while doing some good and raising money for MDA. You don't want to miss this!
When: Friday December 2nd, 2016
Time: Doors Open: 5pm
Food, Beer Release, Raffle, Ugly Sweater Contest: 5:30pm- 12am
Live Music By Local Favorites Brian Bethke & Sage
Where: Northwoods Brew Pub Osseo, WI
The 2016 Cheers for a Cure event will send local kids to a week-long barrier free summer camp. MDA Sumer Camp provides thousands of kids with muscular dystrophy and related muscle debilitating diseases "the best week of the year." Our local MDA Summer Camp in Maple Lake, MN is the one of the largest in the whole country! It is offered at no charge to families thanks to our supporters who fund the camps- give kids with limited muscle strength and mobility a life-changing experience in an environment without barriers. It's a week where they're free to enjoy adventures like horseback riding, canoeing, swimming, and hockey, develop friendships and build self-confidence and independence that are critical to living longer and growing stronger
Physical tickets can be purchased for a price of $25 through Northwoods Brew Pub, local surrounding businesses and online by clicking here. For more information please contact Tallie Ruberg at 952-832-5517 or nruberg@mdausa.org.
We can't wait to celebrate with you on December 2nd, 2016 !